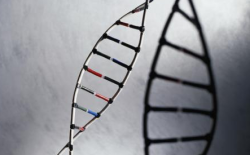 Conventional wisdom says that hardship can make us old before our time.
In fact, a new study suggests that violence leaves long-term scars on children's bodies — not just in bruises on the skin, but also altering their DNA, causing changes that are equivalent to seven to 10 years of premature aging.
Scientists measured this cellular aging by studying the ends of children's chromosomes, called telomeres, according to Idan Shalev, lead author of a study in today's Molecular Psychiatry.
Telomeres are special DNA sequences that act like the plastic tips on shoelaces, which prevent the DNA in chromosomes from unraveling. They get shorter each time a cell divides, until a cell can't divide anymore and it dies.
Several factors have been found to shorten telomeres, including smoking, radiation and psychological stresses such as early life maltreatment and taking care of a chronically ill person.
In this study, researchers examined whether exposure to violence could make children's telomeres shorten faster than normal. They interviewed the mothers of 236 children at ages 5, 7 and 10, asking whether the youngsters had been exposed to domestic violence between the mother and her partner; physical maltreatment by an adult; or bullying. Researchers measured the children's telomeres — in cells obtained by swabbing the insides of their cheeks — at ages 5 and 10.
Read Full Article – Source: USA Today