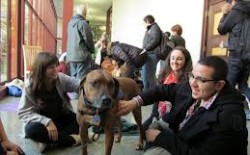 For stressed college students, a doggone good way to relax
Stanley rolls around on the floor and chews on a squeaky toy while zombie-like law students wander in, a giant grin breaking out on their weary faces when they see the cuddly pup. Puppy therapy — just in time for finals week.
From Kent State University in Ohio to Macalester College in Minnesota, more and more pooches are around campus during exams to help students relax and maybe even crack a smile or two.
"We had a student who came in and a staff person commented they had never seen that student smile," said Richelle Reid, a law librarian who started Emory's pet therapy program this year after hearing about one at the University of California, San Francisco. "It has had positive effects, helping them to just have a moment to clear their minds and not have to think about studies, not have to think about books."
Pups are in counseling centers for students to visit regularly or faculty and staff bring their pets to lift spirits.
Pet-friendly dorms also are popping up where students can bring their dogs or cats from home.
Read Full Article: Source – USA Today