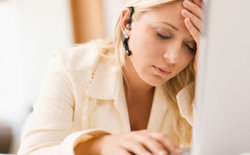 By Elizabeth Scott, M.S.
The American Psychological Association recently released their Stress In American survey, an online Harris Poll of 3,068 adults between August 4th and 29th in 2014, and the results say a lot about what stresses us, how we manage that stress, and what is changing in the world of stress, among other things.  These findings can tell us important things about ourselves, what's working, and what we can change in order to be better managing the stress in our lives.  Here are some of the top findings. 
We are stressed by money.  According to the APA, "Seventy-two percent of adults report feeling stressed about money at least some of the time and 22 percent say that they experience extreme stress about money (a rating of 8, 9 or 10 on a 10-point scale about their stress about money during the past month)."  26% of adults say they feel stressed about money most or all of the time.  32% of respondents say that lack of funds is standing in the way of their living a healthy lifestyle, with 12% reporting that they have actually missed medical appointments because of money woes in the past year.
While stress is trending down, the stress gap is widening between women and men (5.2 vs. 4.5 on a 10-point scale in 2014, compared with 6.3 vs. 6.0 in 2007)), parents and non-parents (5.7 vs. 4.7 on a 10-point scale), and those who make more and less than $50,000 per year (which may not come as a surprise). In fact, lower-income households are about twice as likely to report that money is inhibiting their wellness.
Roughly 25% of respondents reported that stress impacted their physical health, and about the same number said it affected their mental health, and this number has declined from roughly 35% in 2011.  Interestingly, the stress people experienced was roughly similar across regions, meaning that there aren't places in America where we are significantly more or less stressed.
We are still experiencing stress from areas of our lives that have stressed us in the past.  Says the APA, "The most commonly reported sources of stress include money (64 percent report that this is a very or somewhat significant source of stress), work (60 percent), the economy (49 percent), family responsibilities (47 percent) and personal health concerns (46 percent)."
This stress is taking a toll on us in several ways.  The main reported consequences of this stress were feeling irritable/angry (37 percent), being nervous/anxious (35 percent), having a lack of interest/motivation (34 percent), feeling fatigued (32 percent), feeling overwhelmed (82 percent) and being depressed/sad (32 percent).
People are also responding to stress in way they feel is unhealthy in the past month, like lying in bed awake at night (42%) or eating unhealthy foods due to stress (33%).
Most Americans feel that they are experiencing more stress than is healthy, and are struggling to manage it, with 42% saying that they are not doing enough or feel that they are not doing enough to proactively cope.  One in five respondents didn't have anything that they did for stress management, which, in my opinion, is far too many.
There's good news, too, such as the fact that stress overall is down, and that most people have found effective stress relievers, though there is great room for growth in this area.
Takeaways
Knowing what we know about stress from this survey, we can use this information to improve our lives.
First and foremost, if you are experiencing heavy levels of stress, clearly you are not alone.
Also, seeing what works and doesn't work for others can help you to make a plan that may work better for you.
Read full article at the source About.com