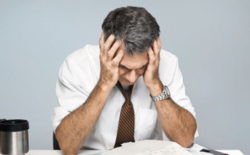 Stress doesn't appear to increase a person's risk of getting multiple sclerosis, suggests research published in this week's Neurology.
"While we've known that stressful life events have been shown to increase the risk of MS episodes, we weren't certain whether these stressors could actually lead to developing the disease," says author Trond Riise of Norway's University of Bergen in a statement. Riise did the research as a visiting scholar at Harvard School of Public Health.
The study included two groups of women — more than 230,00 participants — who were part of the Nurses' Health Study. MS is two to three times higher in women than men, says the National Multiple Sclerosis Society. The first group, ages 30 to 55, was followed from 1976 to 2005. The second, ages of 25 to 42, were followed from 1989 to 2004. They were asked to report stress at home and work, including physical and sexual abuse in childhood and as teens. In the first group, 77 developed MS; in the second, 292 did.
There was no significant increased risk of MS among those reporting severe stress, or physical or sexual abuse, say the researchers.
Sharon Lynch, director of the Multiple Sclerosis Clinic at the University of Kansas Medical Center in Kansas City, says it's a good study; the catch is that "stress to one person is not stress to another."
"Stress does have an impact on your immune system, and we all believe that the immune system is involved in MS," but there's no direct data to suggest a strong enough link, says Karen Blitz-Shabbir, director of North Shore-Long Island Jewish Medical's MS Care Center at Glen Cove (N.Y.) Hospital. But she points to other research that suggests living closer to the equator reduces MS risk. That fits with other research suggesting Vitamin D, produced from sun exposure, may protect against MS.
The study was supported by the National Institute of Neurological Disorders and Stroke.
Read full article here: Source – USA Today