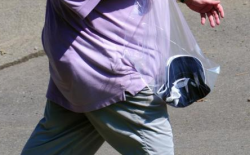 Obesity in the USA has inched up slightly over the past decade, mainly because of weight gain among men and boys, new government statistics show.
The percentage of obese men increased to 35.5% in 2010, up from 27.5% in 2000. About 35.8% of women were obese in 2010, not a significant change from 2000. Adults are considered obese if they are roughly 30 or more pounds over a healthy weight.
About 16.9% of children and adolescents, ages 2 to 19, were obese in 2010, up 13.9% from 2000. This was mostly because of an increase in the percentage of boys who are obese.
The obesity rate was relatively stable in the USA between 1960 and 1980 when about 15% of people fell into the category. It increased dramatically in the '80s and '90s.
Overall, there has been no significant change in recent years. This is another indication that the national obesity epidemic may be leveling off after several decades of skyrocketing growth. Data released two years ago suggested a similar trend.
In 2010, about a third (35.7%) of U.S. adults, or almost 78 million people, were obese. That is up from 30.5% in 2000 but not significantly different statistically from 33.7% in 2008.
"The prevalence of obesity has been flat in recent years, but there has been a small increase in the last decade, particularly among men and boys," says Cynthia Ogden, an epidemiologist with the National Center for Health Statistics, part of the Centers for Disease Control and Prevention.
Patrick O'Neil, president of the Obesity Society, a group of weight-control researchers and professionals, says it may have taken men longer to get to the same obesity rate as women because "men tend to have more lean body mass than women so they typically burn more calories daily."
Gary Foster, director of the Center for Obesity Research and Education at Temple University in Philadelphia, says, the increase in obesity among men "is troubling given that men typically carry excess weight in their bellies (abdominal areas) which confers greater medical consequences such as type 2 diabetes, heart disease, stroke and sleep apnea."
By contrast women tend to carry excess weight in their hips and thighs which is associated with less risk to their health, Foster says.
However, the high obesity rate "will continue to confer significant medical, psychosocial and economic consequences for our country," he says.
Read Full Article: Source – USA Today