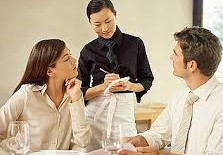 By Brett Hoebel
Dining out is fun and convenient, but it can also be expensive, both in terms of your savings but also for your calories. The three questions you should always ask when eating out are: "What is in the dish?" "How is it prepared?" and "What is in the sauce?"
In terms of the first question, you need to know what you are eating, as lighter-colored proteins like chicken, turkey, tilapia, halibut and tofu are lower in calories than their darker counterparts like beef, lamb, tuna and salmon.
Second, knowing how the dish is prepared can save you many calories, as dishes that are fried, glazed, battered or sautéed are laden with higher calorie oils and sugars. Stick with dishes that are steamed, broiled, baked, rubbed or poached. These dishes are also lower in salt, which can cause water retention.
Third, ask about the sauces. Many of the "hidden" calories are in the sauces due to the butters, oils and sugars they are made with. Make sure you find out what's in them and order them on the side. A few of my favorite go-to dishes are chicken, halibut and entrée salads; I just make sure they are prepared the right way. I get the white meat over the dark meat, order the sauces on the side and always take the fatty skin off my poultry or fish.
Another "food" that has both "hidden" and "empty" calories is alcohol. Always order by the glass instead of the bottle, so you are not tempted to consume more than you should. Have one glass of wine at dinner, but avoid ordering a glass if you are waiting for company at the bar. Lighter-colored beers and spirits, like vodka, are usually lower in calories than darker-colored ones, like bourbon. A drink on the rocks, as a shot, spritzer or with club soda, will have fewer calories than one mixed with sugary sweeteners like juices, sour mix, tonic or sodas. And if you like to drink and have a sweet tooth, try ordering either the alcohol or the dessert, but not both. I like my carrot cake a lot more than my wine.
Read full article at the source Askmen.com