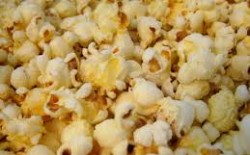 Meat Jerky
If you're looking for a high-protein, low-calorie snack, jerky fits the bill. While some beef jerky may be on the "do not eat" list for having unhealthy ingredients, a quality jerky can be a healthy and convenient snack choice. Choose one with natural ingredients made with lean beef, chicken or turkey. Avoid those with artificial preservatives like MSG or fillers. For example, an all-natural Simply Snackin Beef Jerky has only 60 calories and packs 8 grams of protein. Couple it with a piece of fruit for added fiber.
Frozen Desserts
Looking for a sweet treat that won't spike your blood sugar levels? A 100 percent frozen fruit bar can fit the bill – and they come in a variety of fun flavors like acai-blueberry and pomegranate. Each bar contains about 70 calories and 16 grams of sugar. Since brands vary, read the nutrition label to make sure the carb levels fit your healthy eating plan. If you're craving ice cream, look for a reduced-fat option, with no added sugar. For example, a good choice is the vanilla ice cream from Iskream, which has only 100 calories per 1/2 cup serving, no added sugar and has a seal of approval from the American Diabetes Association. Enjoy with a small handful of nuts for some added protein and fiber.
Guacamole and Bell Peppers
Guacamole is a satisfying, low-carb snack rich in monounsaturated fats. A study in the American Journal of Clinical Nutrition suggests that a diet high in monounsaturated fats (such as those found in avocados) improves glycemic profiles in diabetic patients. Enjoy some quick guacamole by mashing up a ripe avocado and adding lemon juice and pepper to taste. A 1/4 cup of guacamole has 90 calories, 8 grams of (mostly healthy) fat and 4 grams of fiber. Enjoy with strips of red, orange or yellow bell peppers for an extra dose of vitamin C and fiber.
Popcorn
This crunchy, satisfying and high-fiber snack is proof that you don't need to ban your favorite movie-watching food when following a diabetic-friendly diet. Air-popped popcorn without added salt is a low-sodium snack with only 100 calories and 3 grams of fiber for three cups. No time to pop? Many stores offer healthier bags of popcorn, like Trader Joe's Organic Popcorn with Olive Oil. Sprinkle on some shaved cheese for added protein. Or, to spice things up a bit, shake on some cinnamon or cayenne pepper.
Greek Yogurt & Berries
Looking for a cool and refreshing treat? Try having a bowl of berries topped with plain Greek yogurt and a drizzle of honey. Go for raspberries, blueberries, strawberries, blackberries or combine several kinds for a berry medley. You'll avoid the added sugar in many flavored yogurts and benefit from the added fiber and antioxidants of the berries. Greek yogurt generally has fewer carbs and sugars than regular yogurt – and twice the protein – making it a diabetic-friendly snack.
Handful of Nuts
Despite their reputation for being high in fat, nuts are actually a very heart-healthy, quick and easy snack for diabetics. A study in Diabetes Care suggests that swapping nuts, such as pistachios, for carbs in a diabetic diet may be a smart idea because of their healthy fats and protein. Pistachios offer 6 grams of protein and 3 grams of fiber per serving, and nearly 90 percent of the fat in pistachios is the healthy unsaturated type. Other nuts such as almonds, walnuts and cashews also contain healthy monounsaturated fats that can lower cholesterol and keep glucose levels in check. The key is not to eat too many – nuts are calorie dense. A serving of nuts is 1/4 cup (about a handful).
Beans
Beans are a rich source of complex carbohydrates, protein and fiber. In fact, a 1/2 cup of black beans contains a whopping 8 grams of fiber. A study in JAMA Internal Medicine showed that people with Type 2 diabetes who ate more legumes, including beans, improved their blood sugar levels and reduced their risk factors for heart disease. Try adding beans to your next salad, soup or enjoy as a side dish.
Sweet Potatoes with Cinnamon
While white potatoes have a high glycemic index (meaning they raise your blood sugar fast), sweet potatoes have a lower glycemic index, making them a better choice for blood sugar control. Sweet potatoes are loaded with vitamin A, vitamin C and fiber. For an even greater blood sugar response, try sprinkling your sweet potato with cinnamon. Research shows cinnamon may help reduce blood glucose levels. In fact, you don't need to limit your cinnamon use to just sweet potatoes. Try adding it to your oatmeal, chicken or yogurt, too.
Read full article at the source Fox News