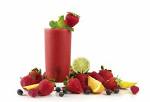 Here's how to make sure yours are
by: Kali Sinclair
(NaturalNews) Smoothies are popular these days. We drink them as an alternative to unhealthy drinks or as a meal replacement. But are they really healthy? They can be.
The question is: What's in your smoothie? 
At some smoothie stands, smoothies are made with 3 basic ingredients: frozen fruit, fruit juice, and sugar. If you take out the sugar, your smoothie will mostly consist of whole fruit, a whole food that is nutritious when fresh, and a little less so when frozen and pre chopped. You can also find smoothies made with cow's milk or yogurt, soy milk, ice cream, chocolate sauce, coffee, whipped cream, peanut butter, and more.
There are four basic types of smoothies:
1. Junk Food Smoothies: Yeah, you know what they are. You know that very berry blast, does not a superfood smoothie make.
2. Junk Food Smoothies Disguised As Healthy: Here you find your cow's milk, soymilk, agave nectar, pasteurized honey, and other questionable ingredients. Gyms and health food stores that don't know any better also have these types of smoothies and add cheap and toxic ingredients like nutritional powders, protein powders, soy, and vitamin & mineral powders.
3. Smoothies with Nutritious Ingredients: These contain any combination of healthy foods, without unhealthy additives or ingredients of any kind. These are really good for you.
4. Smoothies with Nutritious Ingredients AND Added Nutrition: Without a doubt, these are the best. If every ingredient in your smoothie is good for you and you use it as a vehicle to include other superfoods, nutritious oils, and nutritional powder made with whole, clean, nutrient dense foods, your smoothie has now become a powerful aid in restoring or maintaining health.
If you're just getting started in making smoothies, or are looking for a couple of new recipes, the following are two excellent examples of Smoothies With Nutritious Ingredients from a site called Healing the Body:
Raspberry Cream Smoothie
Ingredients
1 whole, fresh, medium pineapple
10 ounces frozen raspberries
1 medium to large avocado
4 tbsp coconut oil
1 tbsp nutrition powder (see link below on how to make your own nutrition powder)
Instructions
Blend pineapple first.
Then add avocado and coconut oil.
After the first ingredients are fully blended, add the frozen raspberries and nutrition powder, blend until smooth.
Enjoy.
Chocolate avocado crunch smoothie
Ingredients
1 cup of ice
1 avocado
Hemp, almond, or other non-dairy milk (enough to cover)
1 tbsp of nutrition powder (see link below on how to make your own nutrition powder)
1 tbsp of coconut oil
2 tbsp of cacao nibs
1/4 tsp of vanilla powder
Stevia (to taste)
Optional: 1 tbsp of cacao powder, or to taste
Directions
Add ice, avocado, and choice of milk to cover well
Add nutrition powder and vanilla (if desired)
Add coconut oil and cacao nibs
Add sweetener, if required, and optional ingredients if desired
Blend, adding water or milk to go smoothly
A basic recipe for smoothies with nutritious ingredients and added nutrition is to blend juice, fruit or frozen fruit, oil (flax seed oil or a high quality nutritional oil blend) and an excellent nutritional powder. All ingredients should be organic and the juice should be freshly juiced. You can use any type of fruit or any type of fresh juice.

1 cup of organic, fresh pressed Granny Smith apple juice or coconut water.
1 1/2 cups of organic, frozen, mixed berries (or any other fruit you choose)
2 level tablespoons of flax seed oil or a high quality 3-6-9 oil blend.
2 heaping tablespoons of nutritional powder, and
1 cup fresh spinach and/or kale (or more, as much as you like)
1 raw egg (only if you have a good source for healthy eggs; conventional eggs carry salmonella)
Most supplements are poor quality, often toxic, and usually at best useless. Be careful and do your research when looking for superfood ingredients and supplements to add to your smoothie. The bigger brands that sell more tend to have lower quality. Ingredients from China tend to be full of toxins. To learn how to make your own nutrition powder powder, click here.
Read full article at the source NaturalNews.com