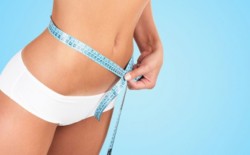 Before there was Dr. Atkins, there was William Banting. He invented the low-carb diet of 1863. Even then Americans were trying out advice that urged fish, mutton or "any meat except pork" for breakfast, lunch and dinner — hold the potatoes, please.
It turns out our obsession with weight and how to lose it dates back at least 150 years. And while now we say "overweight" instead of "corpulent" — and obesity has become epidemic — a look back at dieting history shows what hasn't changed is the quest for an easy fix.
"We grossly, grossly underestimate" the difficulty of changing behaviors that fuel obesity, says Clemson University sociologist Ellen Granberg, after examining archives at the Library of Congress. She believes it's important to show "we're not dealing with some brand new, scary phenomenon we've never dealt with before."
Indeed, the browning documents are eerily familiar.
Consider Englishman William Banting's account of losing almost 50 pounds in a year. He did it by shunning "bread, butter, milk, sugar, beer and potatoes, which had been the main (and I thought innocent) elements of my existence" in favor of loads of meat.
His pamphlet, "Letter on Corpulence, Addressed to the Public," quickly crossed the Atlantic and become so popular here that "banting" became slang for dieting, Granberg says.
While obesity has rapidly surged in the last few decades, we first changed from a nation where being plump was desirable into a nation of on-again, off-again dieters around the end of the 19th century, Granberg says.
Before then, people figured a little extra weight might help withstand infectious diseases that vaccines and antibiotics later would tame. It also was a sign of prosperity. But just as doctors today bemoan a high-tech, immobile society, the emergence of trolleys, cars and other machinery in the late 19th century scaled back the sheer number of calories people once burned, Granberg explains. Increasing prosperity meant easier access to food.
Read Full Article: Source – Fox News.com